Packages, Prices and Session Times
Salty Adults – Adults Room



Salty Families – Children's Room – 1st Child Free!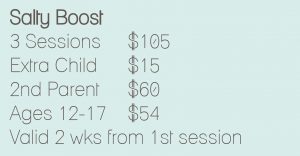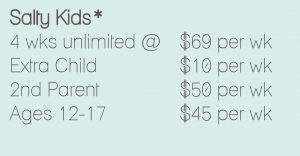 *Pay with direct debit for consecutive weeks.
Unlimited = 1 session per day
Concessions may apply
Ask about Group Bookings
---
Session Times
During the Festive Season
Closed:
Monday 23rd Dec 2019  – Sunday Jan 5th 2020
Open:
Monday 6th Jan 2020
Stay safe everyone and enjoy some time with your family and friends. See you in the New Year!
1 session = 60 minutes
A = Adults   C = Children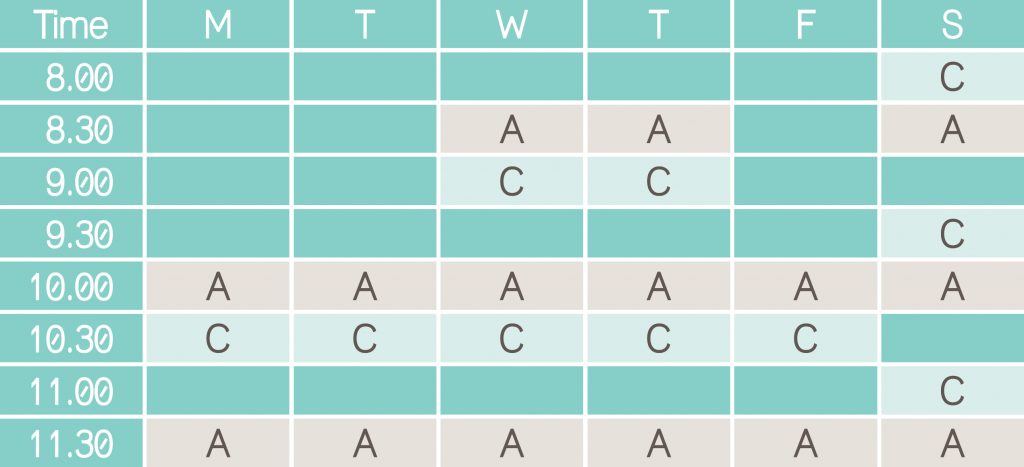 ---
Packages
Create your own wellness package!
Making good health choices while juggling work, family and personal responsibilities can be a huge challenge. Do you want to get more out of your life and career, by improving your health, energy and productivity levels? Take some well deserved time out for yourself and nurture your body into a state of wellbeing.
Need a commitment to your health? Consider a wellness package.
Combine a number of treatments and customize your own package with a choice of:
---
Get the most out of your time with us
Do you have a few concerns?
We can work around your schedule to ensure that you get the most out of your time with us. Combine your Salt Therapy session with any of our other services on offer. Try Kinesiology, Massage or a Bush Flower Essence Balance.
---